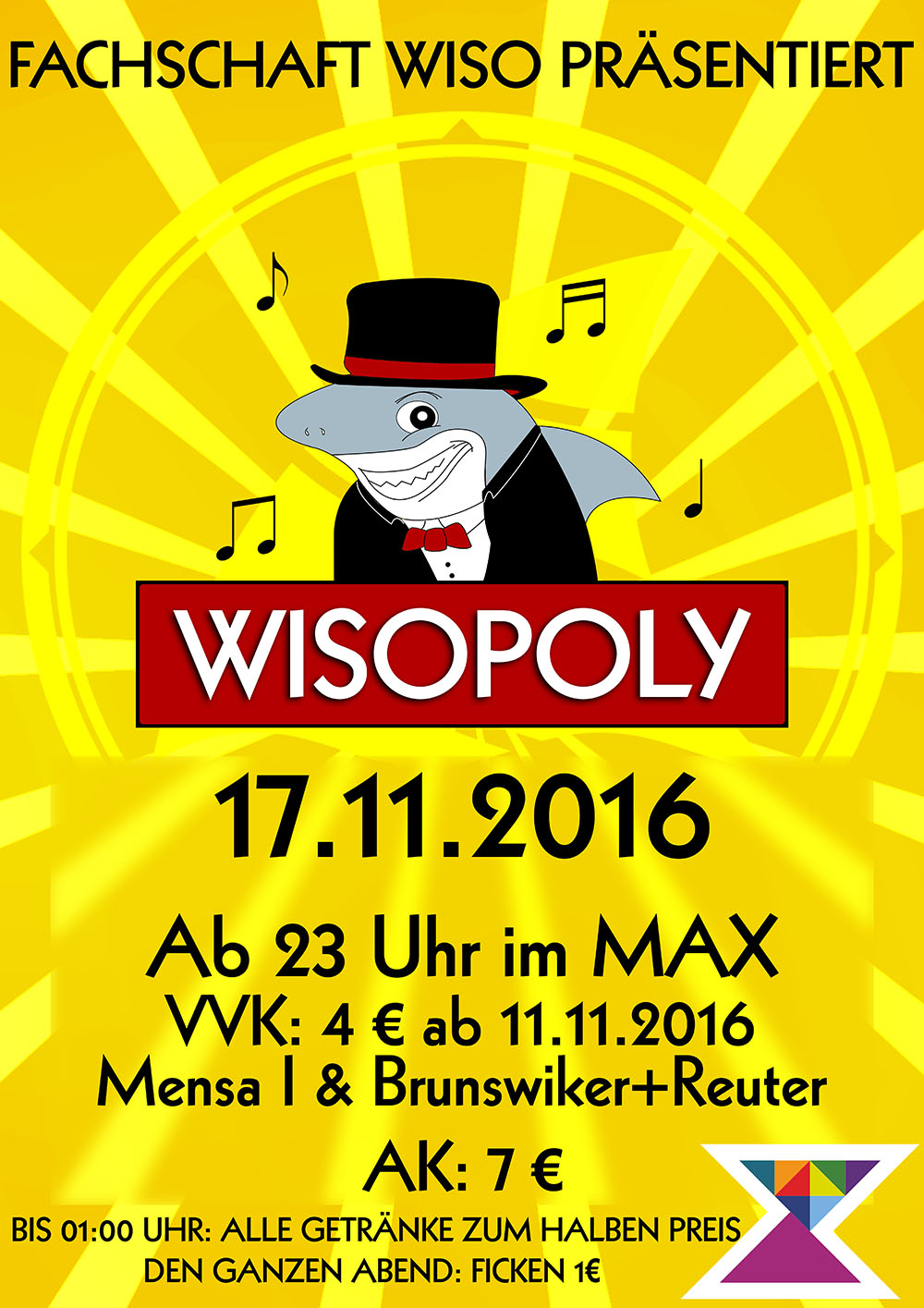 +++ PARTY!!! +++ ES IST WIEDER SOWEIT +++ PARTY!!! +++
Das neue Wintersemester beginnt und der Studienalltag hält wieder Einzug für uns alle.
Doch irgendetwas ist dieses mal anders?!
Ist euer Studium plötzlich interessant?
Schmeckt auf einmal das Mensaessen?
NEIN! Stimmt alles nicht 🙂
Während unsere fleißigen Profs zwischen Monopol und Oligopol unterscheiden, unterschlagen euch diese
aber ganz augenscheinlich das sogenannte "Wisopol". Das ist der Bereich in dem bis zum Umfallen gefeiert
und getanzt wird. Es ist auch der Bereich in dem der neu begonnene Vorlesungsstress keinen Platz mehr hat
und eine Nacht lang die Seele baumeln kann.
Das tut jedem gut!
Die Fachschaft WiSo lädt euch alle zu unserer nagelneuen Partyreihe ein:
————————–—– "WISOPOLY"—————-——————–
Als besonderes Extra werden bis 01:00 Uhr alle Getränke zum halben Preis verkauft und Ficken kostet die ganze Nacht nur 1,00 Euro.
+++VVK: 4 € ab 11.11.16 in der Mensa 1 und Brunswiker + Reuter Universitätsbuchhandlung+++
+++AK: 7 €+++
"… Weil zur Prohibitionsparty keiner kommt!"
"In his blue gardens men and girls came and went like moths among the whisperings and the champagne and the stars."
– F. Scott Fitzgerald, The Great Gatsby –
Ladies and Gentlemen,
The Fachschaft WiSo invites you to celebrate one of the greatest parties of this semester with her, following the motto "WiSo Goldene 20er –Weil zur Prohibitionsparty keiner kommt! "(Why golden 20s?-Because nobody would come for a prohibition party").
The 20s were loud, iridescent and vivid, and this party will be exactly like that. To revive the atmosphere of that time, we ask you to dress up and spend a gorgeous night in the style of the 20s.
Trust us, it will be worth it to not just put on a feather boa or a hat, but to fit your whole outfit in this epoch.
Everybody is welcome –weather as a flapper wearing a pearl necklace or Oxford bags with a jacket.
To shift your taste buds into another era, there will be Gin Tonic for 4 Euros and Jägermeister and Ficken for 1,50 Euros each as a modern component.
Besides, some Moonshine will be prepared to sweet up the time while waiting to be let in.
We hope this will be the party of the year and you are as motivated and willing to dress up as we are.
The pre-sale starts on April 11,2016 daily between 12:00 and 14:00 at Mensa 1 and at the Brunswicker bookstore at its opening times.
Until then, there will be some surprises waiting for you. This means: hold your eyes open and visit our Facebook page from time to time.
Cheers,
Fachschaft WiSo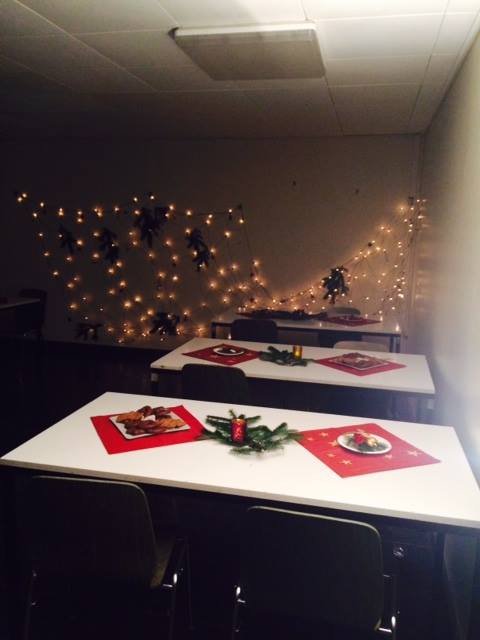 In this sense we want to thank you for a great evening. Hopefully you had as much fun, drinks and sweets as we had. With your help we were able to collect 420€, which we can donate to the Ronald McDonald House in Kiel. We wish you a nice and cozy first advent.
Your FS WiSo
Graduation Celebration 2015
About 270 graduates and guests participated in the graduation ceremony of the Faculty of Economics and Social Sciences at the 12th December 2015. The ceremony took place at the foyer of the Auditorium Maximum/AudiMax.
This is a selection of 120 pictures that got shot at the ceremony. The whole variety of pictures can be seen and copied at our office during the office hours.
If you have some Problems (or complaints) you can contact us with our contact form.
Friday night- Prime time. Wine and beer are within reach- but instead of watching TV- Education and science is on program.
More exciting than "Tatort" (Crime scene) and more funny than any comedy-show. How do you delete a big container-ship? Which logistical challenges need to get accomplished to make a big harbor work? What is the impact of Asylum seeker on the economic performance of the country? Who benefits from immigration? Is Bio really what it says to be?/ Is Bio really Bio? Is it worth to spend more money for it as a consumer?
This and a lot of other questions got answered from Professors of our Faculty at the "Night of the Profs" 2015. We want to say "Thank you" to Prof. Jensen, Quaas, Raff and Maisel for the great talks/speeches.
Winter semester
The four-day program of the O phase provides a great start for any sciences, including economists and socio- economics or trade teacher who begins his studies at the University of Kiel. It begins with a greeting (Audimax – Christian-Albrechts-Platz 2, Frederik-Paulsen Lecture Hall) and the subsequent division into the O-groups. After a first-group icebreaker the campus tour and the convivial lunch in the cafeteria followed.
The program of the O phase varies from year to year, but the main points always take place. These include firstly the information sessions about your new courses and the professors conversations in which professors will answer your questions. The event "Everything But studying" give you information about activities in addition to the lectures. The city rally and the pub Observer are great opportunities to explore Kiel and to connect with other students. And last but not least: the Erstiparty – the first party in the first semester in Kiel!
This year's O phase in  winter semester 16/17 begins on 10 October 2016 at 12:30 pm.
Registration is not necessary.
We look forward to seeing you!
summer semester
Since the summer semester only includes new master students (Business Administration, Economics, Economics, Quantitative Economics and Quantitative Finance), the O phase is much smaller.
This time we offer you a acquaintance, a pub explorer evening and a lot of Informations to major online portals (UnivIS, HISQIS etc.), so you can ask all your questions and even get to know your new student buddies. The welcome speech by the Student Council will be held on 26.03.2018 at 12: 00 pm in the main auditorium (CAP 2) in Lecture Hall K. Registration is not necessary.  
We look forward to seeing you!
Here you'll find the schedule